Ritual Ride
With support of Live Art Development Agency and Arts Admin 2009
Various international screenings 2009 - 2013
Cited in Beyond Deconstruction, Clive Cazeaux. Ed. by Martinengo, Alberto 2013

Ritual Ride documents a 1,000 mile pilgrimage, from London to Findhorn Eco-Village and Spiritual community in Scotland. Steven Ounanian rode a tandem bicycle on this trip, in the hopes of picking people up along the way. This awkward, but comical, documentary promises partial nudity, a dead badger, and catharsis.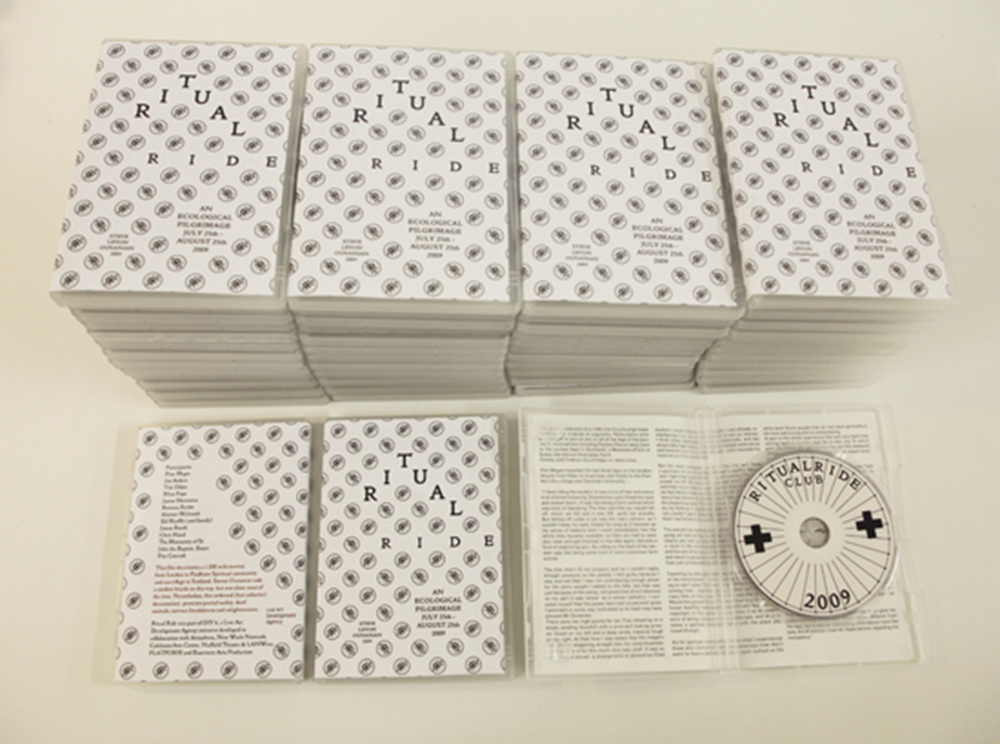 Limited edition run of Ritual Ride DVDs with support of the Live Art Development Agency
"Ounanian uses humour and irony in his commentary, thereby introducing new concepts and ones which entail playfulness and the suspension or cancellation of assertion. We are placed in a situation where, because of the multifaceted nature of the work, we face an array of concepts – cycling, ecology, wasteland, junk, recycling, failure, encountering others (or not), storytelling (or not), irony, humour, hand-held video – which make it ambiguous in which direction we should move to begin making a conceptual or declarative commitment which can be subject to deconstruction.
The fact that Ritualride is being considered in relation to art–cycling as fine art research should offer some guidance though. We are asked to consider cycling becoming art in virtue of its enabling or opening onto the other concepts listed above: ecology, wasteland, junk, failure, encountering others, humour, etc. But Habermas's aesthetics cannot apply here, because we are moving from the everyday to the aesthetic, when his project runs in the other direction. Another possibility: rather than trying to work out how cycling becomes art, we might look instead to what cycling becomes or makes possible when it is played with, used differently, or manipulated by an artist. This would be a translation which does not move from the domain of cycling to the domain of art but, rather, uses art as a motivating force for the translation from cycling to any one or more of the domains of ecology, wasteland, junk, recycling, failure, etc. We would be following the response given by the artists' group WochenKlausur when asked what makes their interventions in administration, activism and social work art: 'Art lets us think in uncommon ways, outside of the narrow thinking of the culture of specialization and outside of the hierarchies we are pressed into when we are employed in an institution, a social organization, or a political party'(Kester 2004, 101)."
BEYOND DECONSTRUCTION,Clive Cazeaux. Ed. by Martinengo, Alberto. Berlin:De Gruyter. 2012.